This summer I was fortunate enough to spend some time on the road with an old friend, John Mayer. I started out in Charlotte, NC and traveled with the band and crew through Atlantic City, NJ (that's Charlotte, Pittsburgh, Buffalo, Hartford and AC....with a quick day trip to NYC thrown in the middle). Over the next couple of days, I'll share some of my personal highlights and pics I took along the way.
To get things kicked off, I'd like to share some random thoughts from the tour........
- If I were to use one word to describe the "John Mayer Tour Experience", it would be: PROFESSIONAL. John has an amazing group of people surrounding him......and I mean that in all facets. Their dedication and attention to detail is really special. I've gotten to know many of these people over the years and met several more while I was on tour and they've always been great to me, but to see them working in action is a pretty cool site. Just a class group all around, truly a pleasure to spend time with them.
- John's backing band is really fantastic and a blast to see up close in person. They're an extremely talented group of musicians and each of them can stand on their own.....and it makes sense why many of them have their own bands. One guy that I don't think gets enough praise is drummer JJ Johnson. I'm telling you, watching him from the stage is a thing of beauty, I wish that the venues could showcase some of his work on the jumbotrons. I will NEVER forget watching him in Buffalo during "Mercy", it was absolutely jaw-dropping. I just think it's too bad that most the people in the crowd never get to see that angle because you get a whole new appreciation for what's going on.
-Whenever I see a band in concert, there's almost always one song that really takes on a new life, usually something I'm not too into from the album version. For this tour, I'd say that "I Don't Trust Myself (with Loving You)" would be that song. I always thought it was pretty good but I think it's one of John's best live songs. The intro, the horns, the harmonies, the solos, David Ryan Harris, it's just about perfect. It's almost like it has all these different chapters that come together to just create a phenomenal live track.Loved the lighting at the beginning of the song too. Here's what I'm talking about......
-The Buffalo/Darien Lake venue was one of the strangest theaters I've ever been to. It's a giant tent that's literally connected to a Six Flags theme park. I went over during the day and had some fried dough and walked around a bit. I was going to take in some rides but I didn't feel like being the guy who got stuck at the top of the ferris wheel alone, maybe next time.
- Sleeping on a tour bus is one of the most unique and surreal experiences I've ever had. These guys are all pretty use to it but to go to sleep in Charlotte, drive through the night and wake up in Pittsburgh is a pretty strange experience. Everyone should get a chance to do this at least once. One tip though, make sure your feet are facing the front of the bus, as opposed to your head. Could make for a bad scene if you had to stop short.
Here's a few pics I took (more to come)......
CHARLOTTE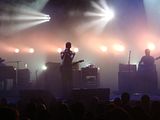 JOHN & DRH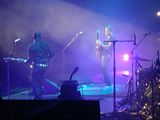 "MERCY"
THE BAND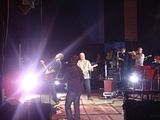 SOLO