Last Friday night, some good friends and I hopped on the L train over to Brooklyn for the Yeasayer concert. Just a short walk from the Bedford stop, you'll find one of my favorite venues, The Music Hall Of Williamsburg. If you haven't seen a show there, I'd highly advise getting over, they have several good ones a month.
It kind of combines the best features of the Bowery Ballroom and the Highline Ballroom. There's a downstairs bar under the theater where you can hear the show being played through the soundsystem. There's another small bar upstairs, just outside the room and then I think there's another in the balcony. Anyways, I think this helps the performance in that most people that want to have discussions take them to other places other than the performance space. It's a classy place, but not stuffy, just a has a great feel to it. I've really enjoyed the shows I've seen there recently.
Onto the concert, this was my first time seeing Yeasayer (had to give up my tix this summer when they played the Summerstage). I was really looking forward to the show and I was not let down. I was impressed by the performance and especially excited by the new songs, they sounded awesome. Yeasayer has issued one album to my knowledge, "All Hour Cymbals", which was released in late 2007. They played a good portion of the album with some new tracks mixed in. Here's the setlist:
WAVES/ WORMS
TIGHTROPE
WAIT FOR THE SUMMER
AMBLIN' ALP
NO NEED TO WORRY
LOVELY GIRL
2080
FINAL PATH
FORGIVENESS
RED CAVE
SUNRISE
----------
WINTERTIME
One of the things that really struck me was how well the band worked together. They were extremely tight, there are several layers to their music and at times you'll find all four members harmonizing together for some really cool sounds. The old tracks sounded great in person and the new tracks left me itching to find them on youtube. Highlights for me were "Tightrope", "Amblin' Alp", "2080", and "Red Cave". Really glad I made the trip over, will definitely be looking for their return to this area.
Here's some pics from the show and two youtube clips of the songs that really stood out in my mind, if these are a sign of what the new album will sound like, sign me up right now. (I think the song "Tightrope" should be used in a commercial of some kind, like one of those slow motion Nike commercials......GREAT beat.)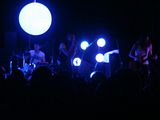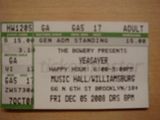 "TIGHTROPE"
"AMBLIN' ALP"