Yesterday afternoon I got a tip that Ryan Adams was going to be performing a secret show in a cafe downtown. I looked up the place quickly on my computer and high-tailed it to the subway, I only had about a half hour to get there. Much to my surprise when I walked up, I easily got in and there were probably only 30 people or so in the cafe (some of which were clearly just there for lunch). I got a spot at the bar, settled in, and waited for Ryan to show up a half hour later.
Sure enough he and his band showed up and put on an 8 song acoustic showcase, mostly songs from his release yesterday but a couple oldies thrown in. Here's the setlist:
"Born Into a Light"
"Evergreen"
"Fix It"
"Magick"
"Natural Ghost"
"If I Am a Stranger"
"Cherry Lane"
"Let Us Down Easy"
The show probably went just over an hour and I'd say at capacity had about 50 people there. It was extremely intimate and the crowd seemed to consist of many friends and some fans. Ryan actually hung out for a bit after so I was able to speak with him for a couple of minutes before he took off. As a huge fan of his stuff, this was a really cool experience for me.......Ryan was very personable and it turned out to be a great surprise for a rainy Tuesday afternoon. Gotta love living in NYC. Here's a few pics.......
Venue shot, tough to see Ryan but he's right under the blackboard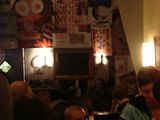 Ryan Adams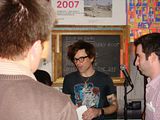 Me & Ryan