Exactly one year ago, I traveled out to San Francisco for Neil Young's Bridge School Benefit. This is the review I wrote last year so some of you may have seen it but if not, here you go.....
The weekend kicked off with a Friday night dinner at Neil's house. From what I understand, this is an annual tradition, Neil has the bands to his house for a big dinner before the weekend festivities and everyone basically mingles together and it's just a really cool, laid back environment. Meeting Neil was definitely a highlight, only spoke with him for a minute or two but he was very kind and gracious. Many of the bands showed up and it was really an amazing experience, truly one of those times when you put your camera away and just soak up the environment. That said, I hope the Rock and Rock Hall of Fame opens up a wing for Neil's memorabilia someday, he's got some amazing stuff in that home. As for the show itself......
I was lucky enough to be all-access for both days which meant I could literally go anywhere in the whole arena I wanted to, without a hassle from anyone (well, except for that time I hid in Metallica's bathroom and got my ass kicked, but that's a story for another time). I spent some time with John and the crew but spent most of the days just talking to a lot of the other performers and people backstage, just taking in all the performances. I saw everyone between the two days, some of the acts twice and came away really impressed by the performances and sincerity of the groups.
The Bridge School is something that I've wanted to go to for a long time, and it's really an awesome experience when you see the kids and their families and how they react to the performers….pretty special.
These are long days, Saturday started at 2pm and finished around 12:15am……but as a music lover, it's a ton of fun. Anyways, here are my thoughts, pretty much in order of the performers:
Regina Spektor: Regina kicked off both days with a bang. Wow, GREAT voice in person, very powerful. I had seen her earlier this year at Coachella and didn't love her set but I thought she was awesome both days out here. She was solo with her piano, not easy to perform like that in an ampitheater but she more than held her own.
A couple side notes…..I got to spend some time talking with her because she was hanging around the first day watching the other acts. She was seriously one of the nicest people I've ever met, she just has a great vibe about her and seems like a genuine person. I really enjoyed talking with her and will be following her career closely for many years to come. Also, after her set the second day, she came back and took a bunch of pictures with the kids and their families and you could really see how excited the kids were, a very cool moment to watch.
Tegan & Sara: This was my first time seeing these twin sisters from Canada, I only knew one of their songs but I really liked a bunch that I heard. They're a five piece band with a guitarist (Ted), bassist (Shaun) and drummer (Johnny). I would say that I probably hung out with these guys the most over the weekend, they were just around a lot watching the other acts, and I spent a bunch of time talking to them. Good performers and a great group of people….really damn cool. Since I've gotten home, I've bought a bunch of their stuff and really listened to it quite a bit. I've been fortunate enough to stay in touch with them since the show and will be seeing them next week in NYC.
My Morning Jacket: I had seen these guys once before but wasn't a fan so I didn't know most of their material. A few weeks before the show, I picked up their live album and found myself loving it, just listening to it over and over. They're a five piece band from Louisville (2 guitars, bass, drums and organ/keys). I have to tell you how impressed I was with these guys both days……awesome set, awesome sound, really, really good band. I'm pissed I hadn't gotten into them before because I'd love to see them in a club setting. Anyways, probably my favorite act of the weekend. I got to spend a little time speaking with them and they seem like good guys, just really laid back and cool.
(As a side note, these guys took the spot of Eddie Vedder who had to back out a week earlier. As disappointed as I was about that, at least I got to see a real good band who I hadn't spent a lot of time listening to before).
John Mayer: He played with Robbie and DRH, the harmonies were really cool, "Free Fallin'" was a surprise and got the crowd going. I thought John playing Gravity to the kids behind him was really damn cool.
Tom Waits: I wasn't all that familiar with a lot of Tom's stuff, but what an *interesting* performance. I don't really know how to describe him but it's kind of an intense show. Wish I could explain more but it's hard to even compare anyone to him, really unique. I do LOVE one song by him, it's called "Hold On", you should check it out.
Neil Young: Neil played a lot of newer stuff which I wasn't that familiar with but he kicked off the show on Saturday with "Sugar Mountain" so that was pretty cool. I've liked Neil for many years and have seen him once before, with PJ in Toledo a few years back. The guy is a legend, pretty fun to stand 20 feet away and watch him do his thing.
Jerry Lee Lewis: I think Jerry Lee is about 137 years old now but damn can he still bring it on that piano. Probably the most "fun" set of the weekend, I was having a great time rockin' out. If I can be having as much fun as he was when I get that old, I'll say life is pretty damn good.
Metallica: Although I'm not a huge Metallica fan, I am really into some of their stuff, especially the black album, one of my favorites….I've also seen them twice in concert so I thought I knew what to expect. I would be lying if I said that I wasn't disappointed in their sets. They did a bunch of covers and really didn't play many favorites. The saving grace was that they closed with "Nothing Else Matters"….of of my favorite songs of all time. Saturday night ended for me, singing along with the MMJ guys pretty much as loud as I could. That'll probably be one of my favorite memories of the weekend. I would have loved to hear "Fade To Black" or "One" but I guess I'll just have to see them next time they're around.
One other thing that I thought was cool was that Kirk showed up early on Sunday, way before Metallica took the stage and was checking out the other bands. It's not a big deal by any means, I just think it's cool when the bands watch each other.
Well, I guess that about wraps it up. It was a hell of a weekend, something I'll surely remember forever. Everything was really well run and it was so much fun just to float around for two days and see everything from a different perspective. This is truly a Class A event, I was honored to be there.
Here's a few pictures:
Me & Regina Spektor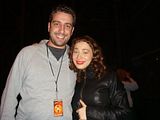 My Morning Jacket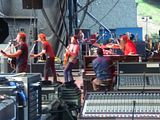 John Mayer playing to the kids
Metallica's gear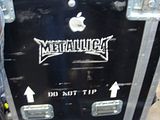 Metallica