Here's a few other thoughts and some additional shots from my time spent on tour.....
- I really liked the openers on this leg of the tour, Paramore and One Republic. I thought both bands did a nice job getting the crowd warmed up, but I especially liked the Paramore sets. I think they're the perfect type of opener in that they're high energy and the crowd feeds off that, that's the kind of vibe that's great to play after. I got to speak to both bands a bit and they were definitely cool and seemed pretty excited to be on tour. Good choices in my opinion, it would be cool to see Paramore open an extended set of shows in the future (they only did Charlotte and Pittsburgh). I guess we'll see.
- The Borgata in Atlantic City is an interesting place to see a show. This was my second time seeing someone there (I saw Pearl Jam awhile back) and it's just a different feel than most concerts. If you haven't been before, imagine a conference room that has risers in the back and then a general admission area up front. It's pretty small, and you kind of feel like you're going into a Human Resources seminar when you walk in. Instead, you're greeted by the opening chords to "Bigger Than My Body"......much better than hearing about your dropping 401K for two hours.
- My favorite setlist from the five shows was Darien Lake/Buffalo: Good Love, Taking On Water, Mercy, I Don't Trust Myself, Why Georgia, Wheel, Neon, Free Falling. Great show.
SOUNDCHECK
SOLO
HARTFORD CROWD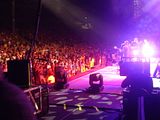 DRH, JM, ROBBIE
THANK YOU